Meet Miki Amano, one of our best amazing remedial massage therapists at Le Spa Massage Academy.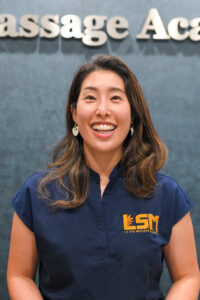 Miki is from Japan where she studied and worked as Japanese dry massage and a beauty therapist.
After arriving to Australia, she completed a Remedial Massage Diploma with Q-Academy.
Miki has a great passion for learning thus she keeps studying outside of work including current enrolment in preventative health study.
Miki has always shown a keen interest in meeting new clients and works towards delivering best services and results for clients via combining her skills and experiences in dry massage and remedial massage therapy.
"In my treatment, I bring together a wide range of techniques and practices such as stretching, cupping and hot stone to provide the best outcome and comfort for my clients" – Miki.