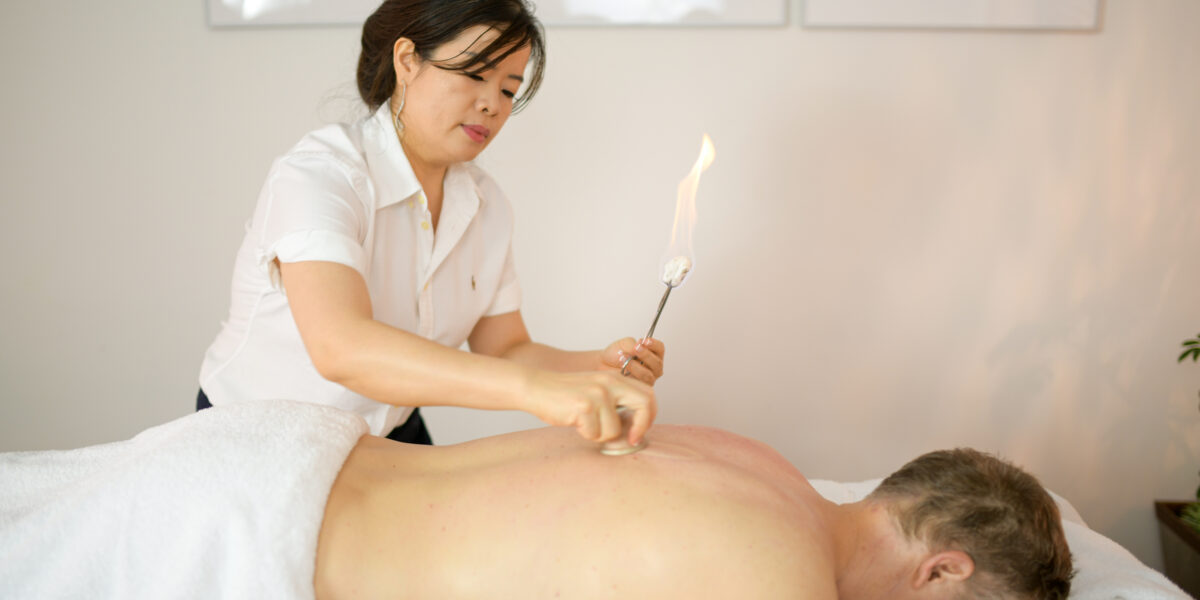 WHAT IS TRADITIONAL FLAME CUPPING?
Cupping therapy is an ancient form of alternative medicine and has been around for thousands of years. Cupping is based on the belief that certain health problems can be caused by stagnant blood and poor energy flow through your body
There are many types of cupping, but flame cupping is the most traditional cupping therapy is an ancient form of alternative medicine and has been around for thousands of years. Cupping is based on the belief that certain health problems can be caused by stagnant blood and a poor energy flow through your body. To reduce or prevent those health issues, cupping practitioners apply cups, typically glass, to your skin to create a pressure that sucks your skin inward. The pressure that the cups create draws blood to the affected area, increasing your blood flow overall.
WHAT IS THE COURSE STRUCTURE?
Le Spa Massage Academy offers a 1-2 day training course covering all the fundamentals of Cupping Therapy. This course is designed to build a strong foundation for using traditional and myofascial cups, particularly focusing on treating musculoskeletal conditions. These theoretical and practical sessions will provide attendants with the necessary knowledge and techniques to apply cupping to different problematic areas.
COURSE RECOGNITION
The Myofascial Cupping and Traditional Flame Cupping Therapy Course is designed to equip you with both theoretical and practical skills enabling you to work as a professional therapist in Traditional Cupping Therapy and Myofascial Cupping Therapy. The course is approved Massage Association of Australia (MAA) and recognised by the International Institute for Complementary Therapists (IICT), of which Le Spa Massage Academy is a Platinum Training Provider. Once you have graduated with your Professional Certificate in Cupping Therapy, you are eligible to join IICT and gain professional membership which offers members with various advantages.
Accreditation
A Professional Certificate is gained at the end of the Course.
The CPE/CPD awarded can differ between associations, please contact your association for specific details. Points can be awarded for hours of training or for days of training.
DELIVERABLE
HISTORY OF CUPPING THERAPY
DIFFERENCES BETWEEN MYOFASCIAL CUPPING AND TRADITIONAL CUPPING
WHAT CAN CUPPING THERAPY TREAT?
TRADITIONAL CUPPING TECHNIQUES
UNDERSTANDING DISCOLOURATION
MYOFASCIAL RELEASE
MYOFASCIAL CUPPING THERAPY
WHAT IS FASCIAL ADHESION?
TYPES OF CUPS AND METHOD OF CUPPING
CLEANING AND CARE OF CUPPING EQUIPMENT
SAFETY CONCERNS
CONSULTATION AND ASSESSMENT
CONTRAINDICATIONS
THE BACK
THE NECK
HAMSTRING (LIGHT PRESSURE)
CALF AND FOOT
LATERAL TREATMENTS
THE CHEST (PECS)
CASE STUDIES
PRACTICAL SESSION YOU WILL LEARN
TREATMENT OF COMMON PROBLEMS (E.G. BACK PAIN)
CUPPING FOR NECK PAIN
TREATMENT OF "UPPER CROSS" SYNDROME
CUPPING FOR TREATMENT OF CALF CRAMPS
TREATMENT OF SHOULDER AND ARMS MUSCLE PAIN
TREATMENT OF BACK PAIN
TREATMENT OF LEG PAIN
TREATMENT OF LOWER BACK & ABDOMINAL WALL PAIN
CUPPING FOR ITB SPASM
CUPPING FOR PLANTAR FASCIITIS
LEARNING OUTCOME:
After completion of the course, the practitioner will be able to confidently apply the skills of Traditional and Myofascial Cupping for their clients with a variety of muscular complaints.
Practitioners will deepen their understanding and confidence towards the uses of cups in massage therapy.
Practitioners will perform assessment of traditional and myofascial adhesion with greater confidence and accuracy.
PRINCIPLE, RESEARCH AND CONCEPTS OF THE COURSE
The course is designed to educate/ introduce massage therapists to cupping therapy. The course will discuss the history of cupping, along with its mechanism of action, and desired outcomes. It then outlines the differences between myofascial cupping and traditional cupping therapy, along with the best technique for applying the cups. Integration of cupping therapy with remedial massage treatment will also be covered, to maximise results for the client, but also to protect the practitioner from excessive mechanical stress.
The program is backed by published research, e.g.
Bridgett et al. Effects of Cupping Therapy in Amateur and Professional Athletes: Systematic Review  of Randomized Controlled Trials. 2018.
This course will also cover infection control, hygiene, work safety along with some anatomy revision.
Furthermore, this course will outline contraindications to cupping therapy, including what areas to avoid. Finally, it will show massage and cupping technique sequences, demonstrating how to perform complete Cupping Therapy based on case studies, with some common issues provided . Students will practice on real volunteer models, or on each other.
Primarily, the course will focus on hands-on training.
The course is aimed at qualified remedial massage therapists; therefore:

Students are required to have knowledge of anatomy and muscle groups.
Student require previous experience in health assessment, massage, bodywork and treatments.
Students will be assessed prior the completion of the course.
ASSESSMENTS
Le Spa Massage Academy will conduct assessments towards the end of the course. Trainees will receive a certificate once competently pass all relevant assessments.
HISTORY OF CUPPING THERAPY
Chinese cupping therapy has been used for over a thousand years ago. In the past, cupping therapy applied cattle horns or cross sections of bamboo for treatment. These ancient 'cups' were boiled in the water or set aflame to expel the air and suck the cups onto the skin. This method was used to drag out pus and blood, which benefits treatment of boils. Cupping therapy was used in Chinese surgery as an auxiliary strategy. Then it was found to be useful in addressing other diseases and further enhanced into special therapy.
Cupping history dates back to the year 281 AD. The earliest cupping therapy was recorded by a Taoist alchemist in A Handbook of Prescriptions for Emergencies, Ge Hong, and it then became a Taoist medical practice, which was widely used in the courts of Imperial China.
At a much later time, the cupping method was used in the Arabian Desert and the Indian sub-continent, for their healing. However, cupping therapy is a Chinese invention according to recorded history.
WHAT IS BENEFITS OF CHINESE CUPPING?
In Chinese culture, cupping is a part of Oriental medicine. In combination, acupuncture and cupping can cure many ills, such as pulmonary tuberculosis. In both Eastern and Western cultures, they believe that illnesses and infirmities can be cured by suction.
Chinese cupping is beneficial for the lungs, assisting them to clear congestion from a common cold and to manage asthma. Respiratory maladies are problems that are commonly treated through cupping.
Importantly, Chinese cupping can detoxify the skin and enhances blood flow via the veins and arteries. It usually leaves a skin mark, or bruise.
The digestive system can be positively affected through cupping. Particularly, the metabolism may improve, and constipation can be relieved, contributing to healthy appetite and strong digestion.
In addition, cupping is an efficiently alternative method of addressing acne, pain, fascial paralysis, cervical spondylosis, and herpes zoster.
WHAT TO AVOID AFTER CUPPING THERAPY?
Keep yourself hydrated by drinking more water.
Provide the lymphatic system extra fluids to flush the toxins out of the body.
Avoid showering immediately after a cupping session.
Keep the treated areas covered and warm.
No alcohol after a cupping session.
Some may experience fatigued or experience flu-like symptoms, but this is normal due to the processing and expelling of toxins released during a cupping session.
THEORY BEHIND MERIDIAN LINES AND CUPPING THERAPY
Cupping therapy is based on the meridian theory of the body.
Cupping helps removing any blockage in the body and opens up the meridians so that body energy (Qi) can flow freely.
It also helps rejuvenating certain meridians and organs that are not functioning at their best.
Cupping therapy is known to help activate the lymphatic system, promote blood circulation and is good for deep tissue repair.
WHAT CAN CUPPING THERAPY TREAT?
Cupping is generally recommended for the treatment of:
Back and neck Pain
Stiff muscles
Paralysis
Gastrointestinal disorders
Lung diseases (especially chronic cough and asthma)
Anxiety
Fatigue
Migraines
Rheumatism
WHAT TO EXPECT AFTER CUPPING IF IT APPEARS SOME MARKS OR BRUISES?
After the cupping therapy, your skin may appear red circular marks. It's important to understand that is not bruises and it doesn't hurt. However, there is a opposite common assumption that cupping marks are bruises. Based on various research show that Bruises are triggered by an impact trauma that breaks the capillaries in the injured area. The cupping mark is a different thing. As cupping therapy cause no compression or impact trauma when it done correctly, they lift your skin and tissue in order to increase blood circulation and release toxins in the body. So which means the darker the mark, the more stagnant fluids (toxins, blood and lymph) were dredged up.
In China, they are called yinzi, meaning "marks", the Greeks use the term of dachylidia indicating "rings". And the people who grow up with cupping know that cupping is beneficial and stimulating indication that the variety of pathogen has been delivered to the  surface due to the suction of cupping. That is the visible sign of success since it enhance healing process.
But it need to be understood that the Traditional Flame Cupping – Cupping without causing marks has been not successful. Many research claims that Traditional Flame cupping is a soft tissue therapy for relaxation, restoring vitality. The treatment has been developed in reducing in pain intensity and disability.  Moreover, it reduces the recurrence rate of pain therefore enhancing quality of life.  Nowadays, cupping is an integrative therapy in modern medicine which can combine with healthcare plans for chronic pain.
In conclusion, the marks look painful but in most cases they are purely aesthetic. Some people don't experience bruising at all. As the reaction is based on the elasticity of individual skin
WHY STUDY WITH US?
Our instructor, Kim Le Robertson has over 20 years of experience working in health and beauty industry and have acquired of hight level of experience and knowledge in the Western and Eastern Cupping technique thorough in her career.
Kim has worked and studied around the world which including Viet Nam, Thai Land, Dominican Republic, Argentina, Papua New Guinea, Fiji and Australia and now she developed and provided the course to ensure her unique style to make her students satisfied.
DURATION
1 full-training day
2 full-training day
Time: 9am-5:30 pm
COURSE FEE (INCLUDE FASCIQ® Cellulite Cupping Set of 4 Cups (Silicone cups) so you can practice immediately after completion of the course.
Alternatively, you can receive 10% OFF ($378), but you WILL NOT receive the complementary cupping set. (Please contact us via facebook or 0448 932 465 to enquire)
1-day training: $420
2-day training: $660
LOCATION
08/31 Black Street, Milton, Queensland, 4064
Click here to get to Le Spa Massage Academy.