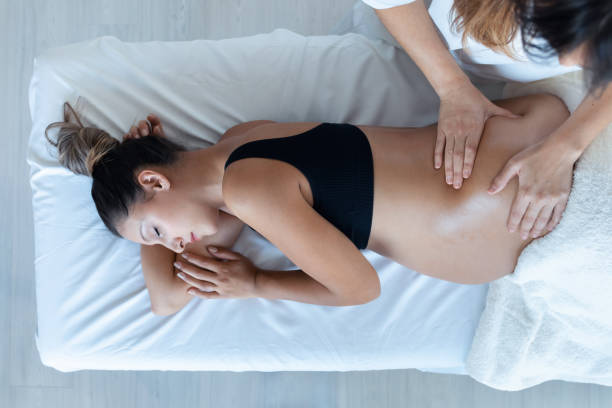 Duration: 1 Day
Pregnancy Massage Certificate Course Description
WHAT IS PREGNANCY MASSAGE?
A pregnancy massage is called prenatal massage which is a full body massage performed by a certified prenatal massage therapist that is similar to a Swedish massage (like what you might experience at a spa) except for a few modifications with body positioning that can ensure the safety and comfort for both mother and baby.
During pregnancy, the body undergoes many physical changes which can cause stress, back pain, and discomfort. Pregnancy massage is one type of massage that is adapted to suit expectant moms. Apply pregnancy massage can help to eliminate and relieve some symptoms and reduce stress hormones. This let the mom-to-be enjoy the positive sides of pregnancy.
What does a pregnancy massage involve?
Pregnancy can put a lot of stress on your back, shoulders, neck and abdominal muscles. Pregnancy massage is designed to relieve some of the aches and pains that are common during pregnancy. A qualified therapist will understand the areas to target and which to avoid.
Before the massage begins, your therapist will talk to you about your health and lifestyle. They will ask you to lie on a specially-designed massage table and will cover you with towels to protect your privacy and to keep you warm. They will probably use creams or oils to help them to massage your skin smoothly.
They will help you to get comfortable with pillows. Remember it is not a good idea to lie flat on your back while you are in the second half of your pregnancy since this puts too much pressure on the vein that runs from your legs to your heart.
Course Delivery:
Welcome, our Pregnancy Massage Course is perfect, and it will give students all the information on the latest, saftest and best ways to perform a prenatal pregnancy massage treatment.
Pregnancy Massage is a very distinct treatment aside from all other massage styles and techniques. Students will learn the importance of this type of massage, also the anatomical and emotional changes of pregnant women, which gives a personal approach to the massage treatment. Student's will also have a good understanding on how to perform and determine the best massage techniques suited for to each individual and their needs.
Our Pregnancy Massage training course starts with theory covering all aspects of prenatal massage, followed by a extensive day of practical hands on training, Students will be instructed to learn the step by step massage sequence that is essential to complete the massaging course.
What students will learn in our Pregnancy Massage Course.
Introduction and Fundamentals of Pregnancy Massage
Massage for Prenatal Women
How does Pregnancy Massage work
Understanding these techniques
Aromatherapy
The Benefits of Pregnancy Massage
Massage Considerations
Massage Consultation
Contraindications for Pregnancy Massage
Understanding on the Equipment Needed
Use of Massage Oils
Pregnancy Massage Sequence: Learn the step by step
Massage During Labor
Common Ailments During Pregnancy
How Massage Can Aid Particular Ailments During Pregnancy
Aftercare
Assessments:
Le Spa Massage Academy will conduct assessments towards the end if the course. Upon successful completion the students will receive their corticates.
Accreditation
A Professional Certificate is gained at the end of the Course.
The CPE/CPD awarded can differ between associations, please contact your association for specific details. Points can be awarded for hours of training or for days of training.
Private one-on-one training

Pregnancy massage course is also conducting a one-on-one private course, particularly designed with 6 to 8 intensive hours of practice, which focuses on providing students with all the essential skills and knowledge prior to starting in the workforce.
More excitingly, by enrolling in the course, students will not only have the opportunity to practice the techniques on real clients but may also receive in-person treatment demonstration so they know and understand what the client feels like when receiving the same service that you are providing.
Le Spa Massage Academy offers a 1-day training course covering all correct treatment protocols and techniques to properly and proficiently perform Pregnancy Massage
Once you have graduated with your Professional Certificate in Pregnancy Massage, you are able to apply for Professional Liability to start practising at home spa or in a clinic.
Entry Level:
The aim of our signature Pregnancy Massage course is to introduce and educate qualified Massage Therapists, Dip. Beauty Therapist and other fully qualified body workers. All students must have a previous qualification in Anatomy & Physiology I massage.
We also offer this is a add on course, make your enquiry.
Duration:
1 Day – Time 9.30am – 3.30pm
What to Bring:
3 Large Towels & 2 Small Towels
Lunch
Tea and Coffee will be provided through the course
What to wear:
Comfortable clothing to be able to move around freely and short nails
Course Fee: $560