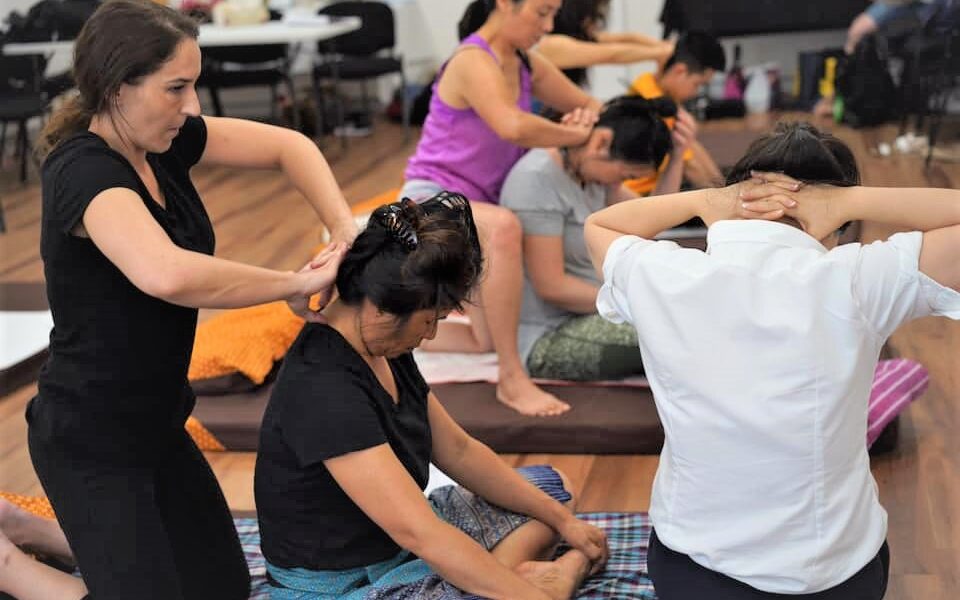 WHAT IS TRADITIONAL THAI MASSAGE COURSE?
Traditional Thai Massage, also known as Passive Yoga, is an ancient therapy from Thailand, a dry massage with comprehensive techniques to strengthen overall well-being. This massage is delivered by using palms, knees, elbows, and feet during therapeutic treatment. Through the use of passive stretching, acupressure, and energy line to work on different body positions, this traditional massage type effectively focuses on reducing tension, balancing the energy system in the human body and enhancing the flexibility of joints and musculoskeletal systems.
COURSE RECOGNITION
The Traditional Thai Massage Course is designed to equip you with both theoretical and practical skills enabling you to work as a professional therapist in Thai traditional massage therapy. The course is approved by Australian Natural Therapists Association (ANTA) and recognised by the International Institute for Complementary Therapists (IICT), of which Le Spa Massage Academy is a Platinum Training Provider. Once you have graduated with your Professional Certificate in Thai Traditional Massage, you are eligible to join IICT and gain professional membership which offers members with various advantages. The completion of this course also allows you to gain Continuing Professional Education (CPE) points towards your HLT52015 Diploma of Remedial Massage.
Note: To apply IICT Membership, a student has to study for 120 hours. For more information, please call us at 0448 932 465.
WHAT MAKES LSMA's TRADITIONAL THAI MASSAGE COURSE UNIQUE?
The Course:
The training is based on giving students the best of practical skills and a deep level of understanding in all the aspects. This improves confidence level, competency and experience for massage therapists hence enhancing comfort level for clients in actual service.
Classes:
Classes are limited to a small group (maximum of 12 students per course) to ensure every trainee receives focused training and attention. LSMA uses professional Thai massage mattresses imported from Thailand to suit the origin of Thai massage.
AIM OF THE COURSE
Provide students with the fundamental knowledge of Traditional Thai Massage and relevant techniques to this type of massage.
Enable students to perform Traditional Thai Massage in confident, safe and effective manner.
 To support massage therapists to further develop techniques and skills.
ENTRY LEVEL
No previous training or experience necessary
COURSE OUTLINE
The course is composed of both theoretical and practical lessons which deliver:
Historical Roots of Thai Massage
Introduction to Thai Massage
Basics of Anatomy and Physiology
Benefits and contradictions
Thai massage techniques
Sen sip or 10 lines
Positioning of Client
The posture of Massage Therapist
Traditional Thai Massage Sequence
Special attention including the use of touch, deep breathing techniques, singing bowl, aromatherapy sprays, and mood music.
ASSESSMENTS
Le Spa Massage Academy will conduct assessments towards the end of the course. Trainees are to receive professional certificates in Traditional Thai Massage once competently pass the assessments.
DURATION
2 full-training day (16 hours for CPE Points approved by ANTA). Or 120 hours for IICT membership.
Time: 9am-5:30 pm
COURSE FEE
2-day course: $590
WHAT TO BRING
2 large-sized towels and 2 small-sized towels
Your lunch
Tea and coffee will be provided throughout the course
WHAT TO WEAR
Comfy outfits (no jean, no dress or skirt) and short nails
LOCATION
08/31 Black Street, Milton, Queensland, 4064
Call now: 0‭44 893 2465‬
Click here to get to Le Spa Massage Academy.