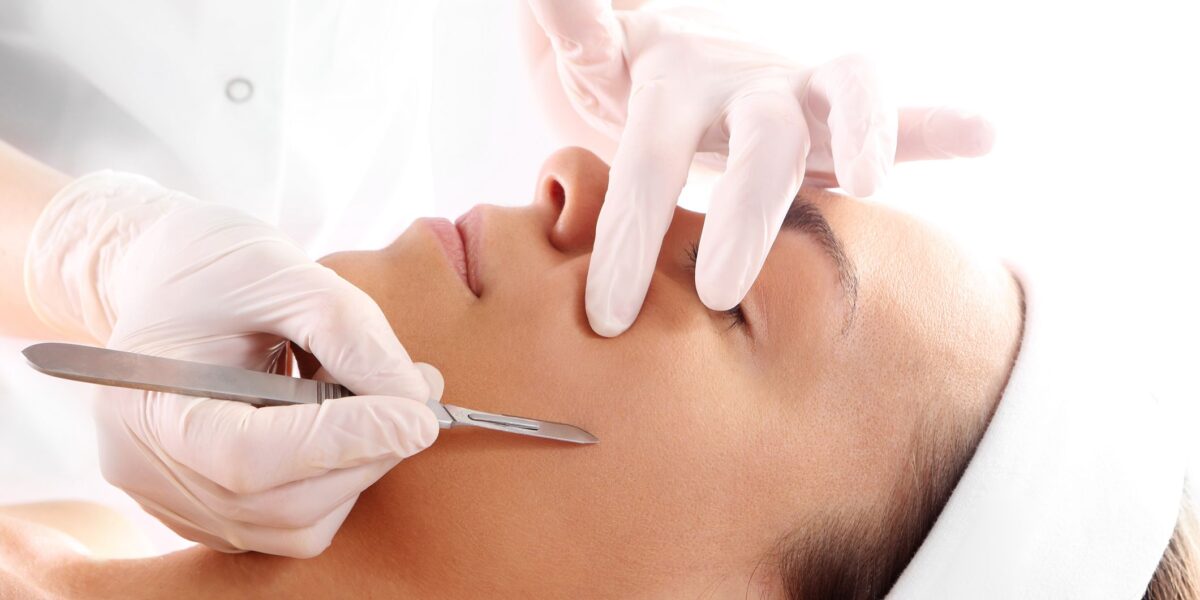 WHAT IS DERMAPLANING?
Dermaplaning is also known as microplanning or blading, and it's a non-invasive intense exfoliation of both dead skin and soft hair on the face and neck with a surgical scalpel.
This treatment temporarily removes the fine superficial vellus hair from the face, commonly known as "peach fuzz." hair of the face, leaving a very smooth surface. As with any type of exfoliation, the removal of dead skin cells allows skincare products to be more effective, aiming to achieve a more youthful or radiant look. It is also highly effective in minimizing the appearance of fine lines and wrinkles, hyperpigmentation and acne scars.
It is suitable in the treatment of fine lines and wrinkles, uneven skin tone, couperose (tiny vessels near the surface of the skin), and congested pores.
HOW IT WORKS AND WHAT IS IT USED FOR?
Dermaplaning can be used on any skin type and assist with uneven texture, fine lines and wrinkles, congestion and blackheads, dull and lifeless skin and extra peach fuzz hair.
The basic concept of dermaplaning is the same as shaving. By aiming a sterile blade at a 45-degree angle and dragging it slowly across your skin, you remove dead cells, scar tissue, and other debris that may be making your skin's surface look uneven.
COURSE DESCRIPTION
Our Dermaplaning course is a one-on-one private course, particularly designed with 8 intensive hours of practice, which focuses on providing students with all the essential skills and knowledge prior to starting in the workforce.
More excitingly, by enrolling in the course, students will not only have the opportunity to practise the techniques on real clients but they'll also receive in-person treatment demonstration from the trainer so they know and understand what the client feels like when receiving the same service that they are providing.
It is not a government accredited course but an Academy Master Class. Our College Master Class Certificate is awarded on completion of 8 practical hours (recorded in log book) which can be in your own salon.
Le Spa Massage Academy offers a 1-day training course covering all correct treatment protocols and techniques to properly and proficiently perform microdermabrasion using a diamond head microdermabrasion tool.
Once you have graduated with your Professional Certificate in Dermaplaning, you are able to apply for Professional Liability to start practising at home or in a clinic.
COURSE DETAILS
Certificate: Professional Certificate of Completion
DELIVERY METHOD
One-on-one private training with our trainer Kim Le Robertson.
Contact us to arrange a time that suits you.
Contact number: 0448 932 465 or (07) 3368 3362
DELIVERABLES
• Purpose of dermaplaning
• Types of blades
• Consultation and how to adapt your treatment for your client
• Benefits and contraindications
• Treatment preparation and management of clinical waste
• Use and disposal of equipment
• Sanitation of instruments and infection prevention
• Dermaplaning treatment sequence, including: manoeuvring the instrument, clinical end points, troubleshooting and post procedure options
• Work station setup standards
• Basics of facial theory including various skin types
• Facial treatment sequence including dermaplaning
ASSESSMENT
Le Spa Massage Academy will conduct assessments towards the end of the course. Trainees are to receive certificates once competently pass required assessments.
ENTRY LEVEL
No previous training necessary and no special equipment required for this training.
DURATION
• 1 official training day
WHAT TO BRING
• 3 large-sized towels and 2 small-sized towels
• Your lunch
• Tea and coffee will be provided throughout the course
WHAT TO WEAR
Comfy outfits and short nails
COURSE FEE
Price: $560
LOCATION
08/31 Black Street, Milton, Queensland, 4064