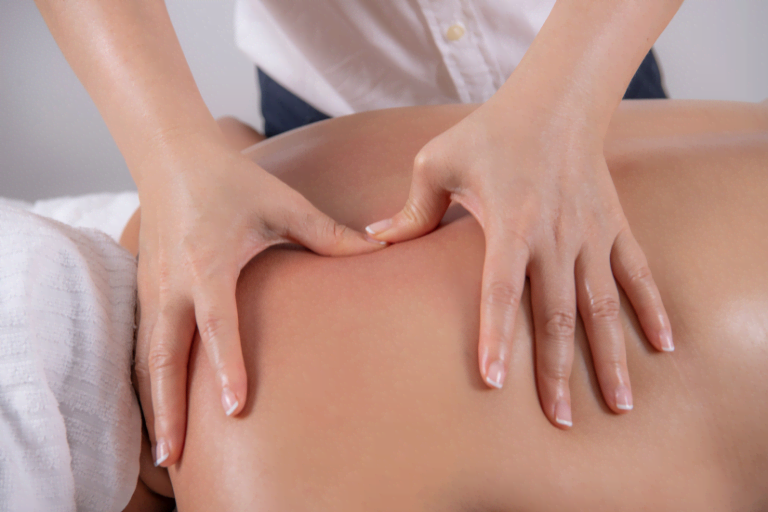 WHAT IS DEEP TISSUE MASSAGE?
Deep tissue massage therapy shares many similarities with Swedish. However, the fundamental difference is the level of pressure. This massage may use the same kneading and stroking movements but with a far more pressure which can even be painful. Furthermore, the therapist may employ special techniques that involves fingertips, knuckles, hands, forearm, and elbow to reach and stretch that deep layers of skin and tissues. The techniques require advanced training and a thorough understanding of anatomy and physiology. They have been a common means of treating musculoskeletal disorders for generations.
At the beginning of a deep tissue massage, lighter pressure is generally applied to warm up and prepare the muscles. Specific techniques are then applied. Common techniques include:
Stripping

: Deep, gliding pressure along the length of the muscle fibers using the elbow, forearm, knuckles, and thumbs.

Friction:

Pressure applied across the grain of a muscle to release adhesions and realign tissue fibers.
Deep tissue massage techniques have been used for centuries, but there were no solid guidelines and procedures. However, not until the mid 1900s, a Canadian doctor, Therese Phimmer, is credited with establishing this type of massage. Her book, Muscles-Your Invisible Bonds, became the cornerstone of the treatment and served as a how-to manual for many of the first massage therapists.
Unlike other massage techniques that focus on relaxation, deep tissue massage helps to treat muscle pain and improve stiffness. This massage is primarily used to treat chronic pain and muscle and sports-related injuries.
WHAT IS DEEP TISSUE MASSAGE FOR UPPER BODY/UPPER CROSS SYNDROME?
Upper Cross Syndrome refers to the deformity of the muscles of the shoulders, neck, and chest. This postural distortion pattern can lead to imbalances of muscle tone or timing and poor movement patterns, and hence increased stress on the head, neck and shoulder joints. The chest-front muscles become shortened and tight. Some muscles become overactive while the surrounding counter muscles become underused and weakened. The name is from the "x" shape that develops when regions of overactive and underactive muscles overlap.
Deep tissue massage for upper cross syndrome results are usually not immediate and require time and commitment. The goal of soft tissue massage is to reduce tension and tightness in restricted muscles, improve strength and stability in the weak and inactive muscles to achieve the best response.
WHAT IS DEEP TISSUE MASSAGE FOR LOWER BACK/LOWER CROSS SYNDROME?
Lower cross syndrome could be lower back stiffness, lower back pain or arched back, flexed hips, pain in hip or pelvic joints, or pain in spine, buttock muscles, hip flexors or groin. People with lower cross syndrome might have reduced mobility of the hip, pelvis or lumbar region. They might have increased tension / stiffness in the lower back and / or buttock muscles, often shown with a protruding tummy.
Deep tissue massage for lower cross syndrome is a two-stage process.  First, loosening up the tight iliopsoas and erector spinae muscles using manual or soft tissue therapies such as massage, cupping or stretching. And to truly resolve the problems, the abdominals and gluteals muscles must be strengthened by exercising recommended by a physical therapist.
WHAT IS DEEP TISSUE MASSAGE FOR LEG AND FOOT?
Leg and foot sensations can be sharp, dull, tingling or stabbing in the hip, ankle and foot area. The pain can range from being intermittent, slowly progressive, transitory, acute or long term and can affect the whole limb or any single part of the limb.
Deep tissue massage increases blood flow and blood circulation in the area can help in preventing and treating injuries and healing of the damaged muscles, tissues, and tendons. Increased blood flow will increase the nutrients muscles need to recover as well as removing waste products from the body thereby reducing inflammation and muscular pain.
WHAT IS DEEP TISSUE MASSAGE FOR SHOULDER/ELBOW/WRIST?
Deep tissue massage for shoulder/elbow/wrist is the most non-invasive, low cost and has long term effect for discomforts in these areas. Massage therapy reduces the inflammation, pain and numbness by softening and lengthening the muscles and fascia of the neck, shoulder, upper arm, elbow, forearm, wrist and hand.
WHAT IS THE COURSE STRUCTURE?
Le Spa Massage Academy offers a 1-day training course covering all the fundamentals of Deep Tissue Massage. The course starts with a theoretical session followed by extensive hours of practical training. This will provide attendants  many techniques for different cases that focus on specific problematic areas.
On top of that, Le Spa Massage Academy brings you the unique combination of Western and Eastern benefits. Western massage methods focuses on the stimulation different soft tissues in the body; from muscles, tendons, ligaments, fascia, nerves, fibrous tissues, fat, blood vessels, and synovial membranes, while Eastern methods focuses on assessing and restoring the vital flow of energy through "meridians" or energy channels. It also delicately blends the use of deep breathing, aromatherapy, along with complementing touch and other external senses of sight, sound, smell and taste.
COURSE RECOGNITION
The course is recognised by the International Institute for Complementary Therapists (IICT), of which Le Spa Massage Academy is a Platinum Training Provider. Once you have graduated with your Professional Certificate in Deep Tissue Massage, you are eligible to join IICT and gain professional membership which offers members with various benefits.
This course is also a pathway to HLT42015 Certificate IV in Massage Therapy or the HLT52015 Diploma of Remedial Massage.
DELIVERABLES 
History of massage therapy

Types of massage and massage techniques

Basics of anatomy and physiology

Benefits and contradictions

Principles of good massage practice

Posture of massage therapists

Consultation and assessment

Grooming standards

Rapping standards

Communication for massage therapists

Preparation for massage equipment and amenities

Deep Tissue massage sequence
ASSESSMENTS
Le Spa Massage Academy will conduct assessments towards the end of the course. Trainees will receive a certificate once competently pass all relevant assessments.
COURSE PREREQUISITES
Previous completion or experience in Swedish Massage/Relaxation Massage is required for this course. Please refer to our Swedish Massage course.
DURATION
1 official training days (8 hours) plus extra 20 practical hours if needed

Time: 9am-5pm
WHAT TO BRING
3 large-sized towels and 2 small-sized towels

Your lunch

Tea and coffee will be provided throughout the course
WHAT TO WEAR
Comfy outfits and short nails
COURSE FEE
Price: $660
LOCATION
08/31 Black Street, Milton, Queensland, 4064
Click here to get to Le Spa Massage Academy.