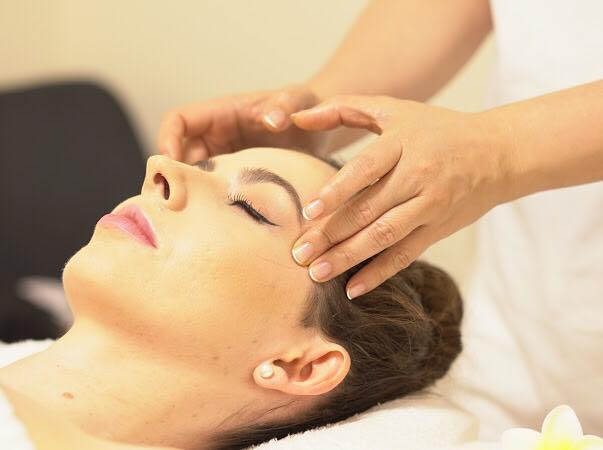 WHAT IS LE SIGNATURE NATURAL FACIAL / FACIAL THERAPY?
Facial includes any kind of skin care treatment specifically meant for the face. Natural Facial / Facial Therapy involves make-up remover, cleanser, exfoliation, massage, face masks, toner and moisturiser. LSMA's unique facial treatment uses a blend of different natural ingredients and other branded products to cleanse, exfoliate, massage to ultimately refresh and rejuvenate facial components.
Le Spa Massage Academy's Natural Facial / Facial Therapy course focuses 8 steps, especially on the face massage including muscle relaxation, lymphatic drainage, pressure point, acupressure, wellness and detoxification, stress-relief.
Step 1: Purifying Elixir
The first brushstroke of your facial canvas begins with a meticulously crafted makeup removal process. Gently sweeping away the traces of the day, we pave the way for the exquisite journey that lies ahead.
Step 2: Cleansing Ritual
Immerse yourself in a bespoke cleansing ritual, where the touch of skilled hands and curated products dance in harmony to cleanse and prepare your skin for the symphony of rejuvenation.
Step 3: Exquisite Exfoliation
Elevate your senses as a gentle mist envelops your skin, followed by an expert exfoliation that unveils your skin's radiant glow. Our steamer, a mystical cloud of warmth, helps to open your pores and prepare them for the indulgent experience that follows.
Step 4: The Art of Massage
At the heart of Le Signature Facial Therapy lies the transformative power of touch. Our masterful massage techniques are more than skin-deep; they're an exploration of relaxation, muscle tension release, and the reawakening of your inner vitality. Through muscle relaxation, lymphatic drainage, pressure point stimulation, and acupressure, you'll be transported to a realm of deep well-being.
Step 5: Mask of Enchantment
The canvas of your skin is now ready to embrace the Mask of Enchantment. A fusion of nature's finest ingredients cradles your skin, infusing it with potent antioxidants and nourishment. As you drift into tranquillity, the mask works its magic, leaving you with skin that's not only revitalised but also deeply harmonized.
Step 6: Harmonising Toner
As the final notes of your rejuvenating symphony approach, a harmonizing toner delicately serenades your skin, balancing its pH and locking in the benefits of your transformative experience.
Step 7: Elixir of Radiance
Our journey culminates with a luxurious application of the Elixir of Radiance – a moisturizer that transcends its name. Rich yet light, it cocoons your skin, sealing in the luminosity and vitality that now radiates from within.
Beyond the Steps: Holistic Embrace
But our story doesn't end here. Le Signature Facial Therapy is an experience that extends beyond the steps. Let your senses soar as your hands, arms, and scalp are lovingly massaged, dissolving every remnant of stress and tension. This holistic embrace is a gesture of profound self-love, a tribute to the masterpiece that is you.
Course Overview: Le Signature Facial Therapy Course
Facial therapy is an art that embraces the essence of self-care and well-being. Our Le Signature Facial Therapy Course is a carefully crafted program that encapsulates years of expertise, bringing together a blend of traditional wisdom and modern techniques. With a focus on purity, revitalization, and holistic rejuvenation, this course is designed to empower you with the skills and knowledge to deliver Le Signature Facial Therapy with excellence.
Course Structure:
Spanning 2 days, our Le Signature Facial Therapy Course offers a harmonious balance between theory and practical application. As a Platinum Training Provider recognized by the International Institute for Complimentary Therapists (IICT), Le Spa Massage Academy ensures that you graduate with a Professional Certificate, equipping you to elevate your facial treatments to a whole new level of mastery.
Course Highlights:
Understanding Facial Essentials: Dive into the foundational elements of facial therapy. Learn about facial structure, skin anatomy, and explore various skin conditions and their corresponding treatments.
Harnessing the Power of Nature: Discover the potent potential of natural products and ingredients that form the heart of Le Signature Facial Therapy. Explore how these elements contribute to enhancing the efficacy of your treatments.
Mastering Facial Tools: Acquaint yourself with essential facial utensils and their roles in delivering a seamless and immersive facial therapy experience.
Art of Signature Face Massage: Immerse yourself in the art of Le Signature Facial Therapy's distinctive face massage. Delve into techniques encompassing muscle relaxation, lymphatic drainage, pressure point stimulation, acupressure, wellness, and detoxification – all aimed at providing holistic rejuvenation and stress relief.
Practical Sequencing: Master the step-by-step practical sequence of Le Signature Facial Therapy, encompassing the 7 transformative steps from makeup removal to moisturization. Develop a seamless flow that culminates in a rejuvenating experience for your clients.
Assessments and Certification:
At the conclusion of the course, Le Spa Massage Academy will conduct assessments to gauge your competency. Upon successfully passing the required assessments, you will be awarded a certificate, a testament to your expertise in delivering Le Signature Facial Therapy.
Entry Level and Duration:
No prior training or experience is necessary to embark on this enriching journey. The Le Signature Facial Therapy Course spans 2 days, from 9 am to 5 pm each day, ensuring an immersive and comprehensive learning experience.
COURSE FEE
$660
LOCATION
08/31 Black Street, Milton, Queensland, 4064
Click here to get to Le Spa Massage Academy.