My name is Kim Le Robertson from Le Spa Massage Academy, Milton, Brisbane.
I have over two decades of experience working in massage and beauty industry and have acquired a high level of experience and knowledge in the Western and Eastern massage techniques throughout my career.
I have worked and trained at massage and beauty academies and international top 5-Star Day- Spa resorts around the world including Australia, Vietnam, Thailand, Dominican Republic, Argentina, Papua New Guinea and Fiji.
My primary role was to set up and operate new Day Spas as well as developing training packages to train staff and providing 5- star massage and beauty products/services for the resort's customers.
Since living in Australia, I've advanced with my studies and added more to my list of certifications and qualifications including the HLT52015 Diploma of Remedial Massage at Q Academy – Brisbane, a SHB50115 Diploma of Beauty Therapy at Noble Training Academy, a certificate in Anesi Skincare, a certificate in Dry Needling, a certificate in Lymphatic Drainage Massage and a dual diploma in Business Management & Marketing at TAFE. I've also obtained a Certificate IV in Training and Assessment from TAFE Queensland. While completing these additional certifications and qualifications, I was also maintaining my practical skills by working as a massage therapist in various spas around the country.
Now in Brisbane, Australia, I am currently running my own clinic business, Le Spa Massage Academy, where my team and I provide remedial massage and beauty services to clients.
At Le Spa Massage Academy, we also provide a wide range of comprehensive training for those who aim to learn different styles of massage therapy and beauty treatments. All our courses are prepared and developed gradually with time to ensure delivering unique massage styles to satisfy client needs but also well equipping trainees with high-quality practices.
My ultimate goal is to provide the best practical massage and beauty courses at 5 star standards in Australia.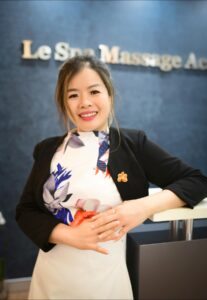 Thank you for your reading my post to the end I wish you all the best in your life
Kind regards
Kim Le Robertson