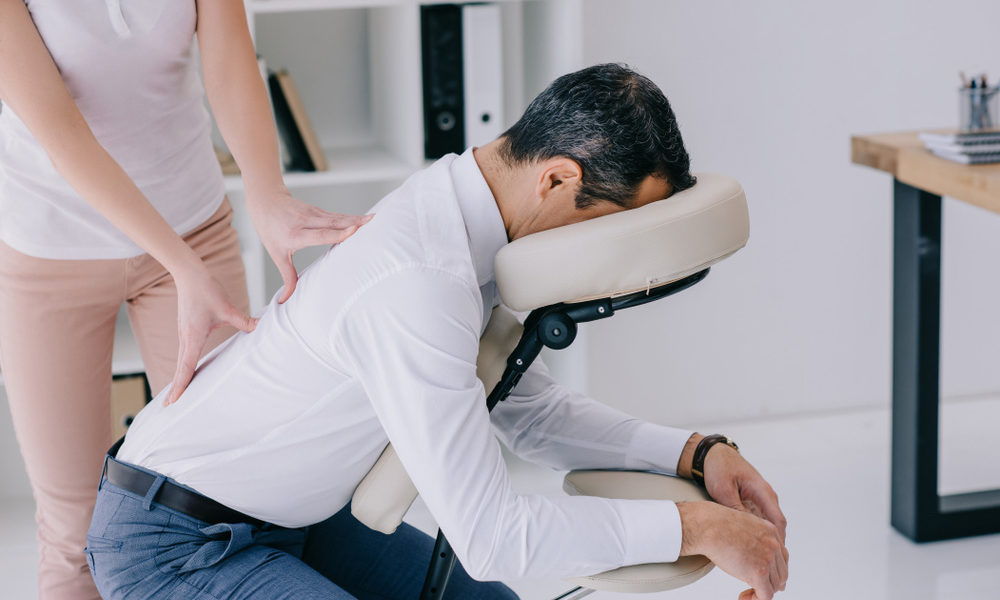 WHAT IS CHAIR MASSAGE?
Chair Massage or Seated Massage has become increasingly popular in workplaces, exhibitions, conferences, at the gym and golf tournament environments. Chair massage is also an important speciality area in the massage therapy profession as it allows the therapist to reach a different groups of clients who may not be available for traditional table massage. This type of massage technique focuses on back neck shoulder and scalp which is performed on the chair without cloth-removal. It is usually done on a portable massage chair, an adjustable desktop positioner, a stool and leaning forward only a support or sitting upright in a chair.
COURSE OUTLINE
Le Spa Massage Academy offers a 1-day course covering basic marketing and client re-booking techniques, prepare the kit and seated massage skills and sequence. The course is recognised by the International Institute for Complimentary Therapists (IICT), of which Le Spa Massage Academy is a Platinum Training Provider.
BENENFITS
Chair Massage or Seated Massage is a simple, convenient and quick session of bodywork for relaxing muscles and obtaining a renewed sense of energy. This massage concentrates on reducing tension and stress in common areas such as head, neck, shoulders, arms and back. It usually lasts between 5 and 30 minutes and it takes place in an ordinary or specially designed chair.
AIM OF COURSE
To expand both massage skills and confidence level for therapists in treating corporate clients.
To enable practitioners to perform Seated Massage with suitable hand positioning, accurate posture, bodyweight positioning along with adequate depth and rhythm.
To provide practitioners the ability to perform massage in most places with minimal set up required.
ASSESSMENTS
Le Spa Massage Academy will conduct assessments towards the end of the course.
ENTRY LEVEL
No previous training or experience necessary and no special equipment required for this training.
DURATION
COURSE FEE
$280
LOCATION
08/31 Black Street, Milton, Queensland, 4064
Click here to get to Le Spa Massage Academy.