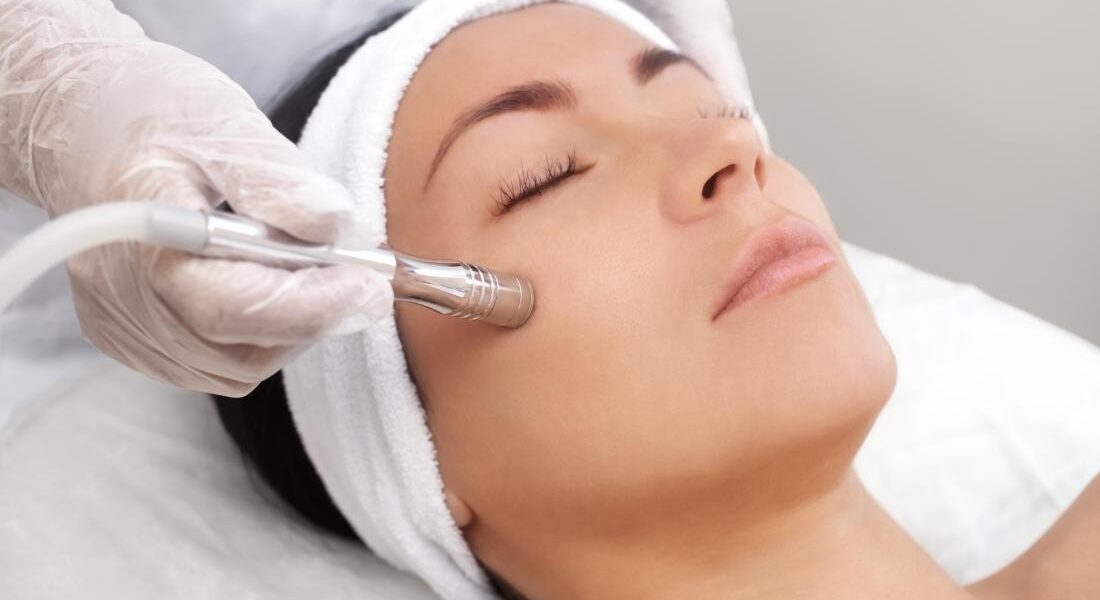 WHAT IS MICRODERMABRASION?
Microdermabrasion is a minimally invasive skin treatment that buffs away the outermost layer of the skin to create a smoother and younger appearance. The procedure uses a special applicator with an abrasive surface to gently sand away the thick outer layer of the skin to rejuvenate it. After the treatment, a new layer of skin forms. Often several treatments are needed to obtain the required results.
There are a few different ways to do the procedure, based on the specific device used:
A diamond-tip handpiece is designed to gently exfoliate dead cells in your skin. At the same time, it will suction them off immediately.
The depth of the abrasion may be affected by the pressure applied on the handpiece as well as how long the suction is allowed to remain on the skin. This type of microdermabrasion applicator is generally used in more sensitive facial areas, like close to the eyes.
Crystal microdermabrasion uses a crystal-emitting handpiece to gently spray on fine crystals to rub away outer layers of the skin. Like the diamond-tip handpiece, dead skin cells are suctioned off right away. The different types of crystals that may be used include aluminum oxide and sodium bicarbonate.
Hydradermabrasion is a newer method. It involves combining simultaneous dermal infusion of products and crystal-free exfoliation. The entire process stimulates collagen production and maximizes blood flow to your skin.
Course Description
COURSE RECOGNITION
Our Microdermabrasion course is a one-on-one private course, particularly designed with 6-8 intensive hours of practice, which focuses on providing students with all the essential skills and knowledge prior to starting in the workforce.
More excitingly, by enrolling in the course, students will not only have the opportunity to practice the techniques on real clients but they may also receive in-person treatment demonstration from the trainer so you can experience and understand what the client feels like when receiving the same service that you are providing.
It is not a government accredited course but an Academy Master Class. Our College Master Class Certificate is awarded on completion of 6-8 practical hours (recorded in log book) which can be in your own salon.
Le Spa Massage Academy offers a 1-day training course covering all correct treatment protocols and techniques to properly and proficiently perform microdermabrasion using a diamond head microdermabrasion tool.
Once you have graduated with your Professional Certificate in Microdermabrasion, you are able to apply for Professional Liability to start practicing at home or in a clinic.
HOW IT WORKS AND WHAT IS IT USED FOR?
Microdermabrasion is typically used as a cosmetic procedure to treat wrinkles, sun-induced pigmentation (darkened skin), acne scarring, enlarged pores and 'stretch marks'. It may be combined with medicines applied on the skin to treat acne.
This treatment is used to address:
dullness in the complexion
uneven skin tone
uneven skin texture
age spots
dark spots that can form after acne clears up
melasma, a common issue that forms dark spots or patches on the skin
scars
ADVANTAGES OF MICRODERMABRASION
Relatively painless
Minimal risks (if performed properly)
Little to no downtime
Improve the appearance of sun damage, wrinkles, fine lines, age spots, acne scarring, melasma, dull-looking skin complexion, uneven skin tone and texture
RISKS OR SIDE EFFECTS OF MICRODERMABRASION?
This procedure may spread infections from one part of your skin to another. You should not have microdermabrasion if you have skin infections such as impetigo, or have had warts, herpes and other viral infections. Sometimes it can make other conditions like rosacea flare up.
Microdermabrasion is not suitable for people with, bleeding disorders, open sores, warts or sunburn, or those who develop keloid scars should avoid the technique.
You may be told to avoid sun exposure, tanning creams, and waxing for about a week before treatment. You may also be advised to stop using exfoliating creams and masks approximately three days prior to treatment.
WHAT IS INCLUDED IN OUR TREATMENT TECHNIQUES?
The skin is usually first cleansed of any makeup. Tiny crystals are then sprayed onto the skin by a hand-held device while vacuum suction is used to remove the used crystals and skin cell debris. Some microdermabrasion devices use diamond-tipped wands, instead of crystals, to buff the skin.
WHAT TO EXPECT AFTER YOUR TREATMENT?
There is little to no downtime after microdermabrasion, although you may experience mild and temporary discomfort and skin redness afterwards. You should be able to resume your daily activities immediately.
Keep your skin hydrated and use gentle skin care products. Avoid using topical acne medications for at least one day after treatment. It's extremely important to protect your skin with sunscreen. Your skin can be more sensitive to the sun in the few weeks after the treatment.
DELIVERY METHOD
One-on-one private training with Kim – contact us to arrange a time that suits you.
DELIVERABLES
Purpose of microdermabrasion
Consultation and how to adapt your treatment for your client
Benefits and Contraindications
Treatment preparation and management of clinical waste
Use of diamond head micro-dermabrasion to exfoliate the skin of the body or face.
Sanitation of instruments and infection prevention
Work station setup standards
Basics of facial theory including various skin types and conditions
Treatment procedure and after care instructions
ASSESSMENTS
Le Spa Massage Academy will conduct assessments towards the end of the course. Trainees are to receive certificate once competently pass relevant assessments.
ENTRY LEVEL
No previous training or experience necessary and no special equipment required for this training.
DURATION
1 official training day
0.5-hour lunch break
Professional Certificate of Attainment
WHAT TO BRING
3 large-sized towels and 2 small-sized towels
Your lunch
Tea and coffee will be provided throughout the course
WHAT TO WEAR
Comfy outfits and short nails
COURSE FEE
Price: $560
Early-bird bookings (4 weeks in advance) receive 10% discount
LOCATION
08/31 Black Street, Milton, Queensland, 4064