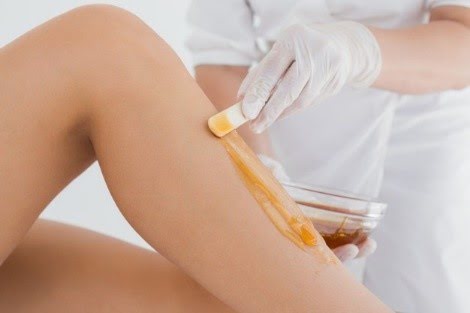 WHAT IS WHOLE BODY WAXING (Face body Brazilian)?
Waxing is a semi-permanent hair removal procedure. The technique removes hair from the root, and it takes 3 to 8 weeks for the new hair to grow. Unlike other hair removal techniques such as threading; waxing can be done on almost any part of the body including arms, legs, back, eyebrow, abdomen, face, bikini area and feet.
Waxing is the most advantageous and affordable way of removing excess or unwanted hair from the body. This leaves the waxed area very smooth and makes it a very popular service with customers. To explain how it's done, we are going to look into the two methods of doing it.
Below are the main types of hair removal.
Hot wax or hard wax – this is among the most popular method whereby hot wax is applied on the region you wish to wax. The wax is applied in a thick layer then allowed to cool down for it to harden for an easy removal. The wax is then peeled off to remove the hair.
Strip waxing or soft wax – this method works by spreading the wax in a thin layer over the area you wish to remove the hair. A paper strip is then applied on the area and then ripped off in the opposite direction of hair growth using quick movement.  You can also cover the waxed area with a non-woven strip, and when you remove it, the hair comes with it.
COURSE RECOGNITION
Our Waxing course is a one-on-one private course, particularly designed with 8 intensive hours of practice, which focuses on providing students with all the essential skills and knowledge prior to starting in the workforce.
Including theory and practical components of Full Body Waxing (Arms, Underarms, Legs and Bikini areas) or Advanced Sugaring Brazilian waxing, or Eyebrow design & shaping, Lip and Chin waxing
More excitingly, by enrolling in the course, students will not only have the opportunity to practice the techniques on real clients but they'll also receive in-person treatment demonstration from the trainer so they know and understand what the client feels like when receiving the same service that you are providing.
This Waxing course is not a government accredited course but an LSMA Master Class/Workshop. Our LSMA Master Class Certificate is awarded on completion of 8 practical hours (recorded in log book) which can be in your own salon.
Le Spa Massage Academy offers a 1-day training course covering all correct treatment protocols and techniques to safely and effectively perform Full Body Waxing. Once you have graduated with your Professional Certificate in Full Body Waxing, you are able to apply for Professional Liability to start practising at home or in a clinic.
FACTORS TO CONSIDER BEFORE WAXING
The hair should be ½cm long.
Wax applied should cover the root of the hair.
Avoid using lotion since it can cause sensitivity or irritation of the skin.
People under medication should avoid waxing; the products can cause quick exfoliation of the skin leading to scabbing.
There should be a minimum 24-hour gap from sun exposure because the skin is still sensitive.
WHAT DO AND DON'T AFTER TREATMENT
Apply a cool compress or take a cool shower to reduce irritation and sensitivity.
Avoid hot baths or showers.
Wear loose-fitting clothing to avoid friction and irritation.
Avoid perfumed products, lotions, and creams, which can irritate sensitised skin.
Apply an over-the-counter cortisone cream on the waxed area to reduce inflammation.
Avoid excessive activity for 24 hours after waxing. Perspiration can irritate freshly waxed skin.
Cleanse and exfoliate regularly. Removing dead skin and other debris can help release embedded hair and prevent additional ingrown hairs.
DELIVERY METHOD
One-on-one private training with Kim – contact us to arrange a time that suits you.
DELIVERABLES
The hair growth cycle and the anatomy of the hair follicle.
Before and after care treatments.
What equipment you need and how to set it up.
Step by step guidance on waxing each part of the body.
Contra-indications for waxing.
Sanitation and Hygiene.
Step by step guide for waxing each individual part of the body including:

½ leg, foot and toe
Full leg and bikini
Bikini
Underarm
½, ¾ and full arm
Lip
Eyebrow (including the correct procedure for re-shaping the brow)
Back and shoulder
Full Female Brazilian
Metal Spatula Method (wax pot)
Single Dip Method (wax pot)
Cartridge Method
ASSESSMENTS
Le Spa Massage Academy will conduct assessments towards the end of the course. Trainees will receive a certificate once successfully passed relevant assessments.
ENTRY LEVEL
No previous training or experience necessary and no special equipment required for this training.
DURATION
1 official training day
Time: 9am-5pm
WHAT TO BRING
3 large-sized towels and 2 small-sized towels
Your lunch
Tea and coffee will be provided throughout the course
WHAT TO WEAR
Comfortable outfit and short nails
COURSE FEE
Price: $560
Early-bird bookings (4 weeks in advance) receive 10% discount
LOCATION
08/31 Black Street, Milton, Queensland, 4064