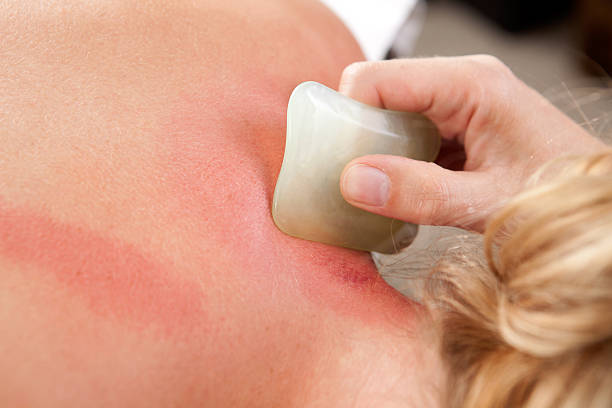 WHAT IS GUA SHA?
Gua Sha is a natural alternative therapy. A therapist uses Gua Sha tools to scrape your skin with short or long strokes to stimulate microcirculation of the soft tissue, which increases blood flow. It can also stimulate lymphatic drainage, activate various points of the body, and bring helpful cells to the area by stimulating an immune response. Sometimes the scraping creates some discoloration such as red marks on the skin, which can look dramatic. But there is no need to worry, rest assured it is not painful and the marks usually go away after a few days. Furthermore, massage oil is usually used to massage with Gua Sha tool. Many cultures even use 'hot' oil or methol balm combined with Gua Sha technique to help release toxins, especially when you are having cold or flu. This healing method is especially good with treating chronic pain and skin appearance issues, and may also help with other health issues.
THE HISTORY OF GUA SHA
Gua Sha is a traditional East Asian method in treating chronic body pain and sickness. This might be the first time you have heard the word. However, Gua Sha has always been popular. Gua Sha has been largely practiced and used by everyday people all over Asia for centuries. Mothers in East Asia also used Gua Sha for generations as a home remedy for sick children. According to traditional Chinese medicine, qi (or chi) is energy that flows through the body. They believe that a person's qi must be balanced and flowing freely to ensure their health and wellbeing. Gua Sha aims to move qi around the body.
WHAT ARE THE BENEFITS OF GUA SHA?
Gua Sha helps reduce inflammation. Therefore, body Gua Sha is often used to treat ailments that cause chronic pain, such as arthritis and fibromyalgia, as well as those that trigger muscle and joint pain.
Because of its benefit in increasing blood flow, facial Gua Sha really benefits skin's well-being. It also breaks down muscular tension. Thus, Gua Sha is extremely helpful for lymphatic drainage in our face because in daily life, we don't move all the muscles in our face that much.
WHAT IS THE DIFFERENCE OF BODY GUA SHA AND FACIAL GUA SHA?
To be simple, body Gua Sha is Gua Sha on body, and facial Gua Sha is Gua Sha on face. Thus, the techniques for each method are also different. Body Gua Sha is generally performed on a person's back, buttocks, neck, arms, and legs. A gentle version of it is facial Gua Sha, which is used on the face as a facial technique.
Traditionally, body Gua Sha is used to relieve muscle and joint pain. It is claimed that Gua Sha can benefit the immune system and reduce inflammation. Gua Sha is also used to treat a cold or fever, and it gives instant comfort especially when you are unwell.
You might have seen people rubbing Gua Sha tools across their faces on social media and wondered what it was. Facial Gua Sha has been proven to help relieve facial tension, reduce puffiness and inflammation.
WHAT ARE THE GUA SHA TOOLS?
 Gua Sha tools are small, hand-held tools with rounded edges. They can be in different shapes and often weighted to help the therapist apply pressure. The therapist may apply more pressure on your body than your face. However, the therapist may start with mild pressure, and gradually increase intensity to determine how much force you can handle.
HOW DO I USE THE GUA SHA TOOLS?
For body Gua Sha: The therapist will apply oil to the area of the body that is being treated, in order to move the tool smoothly across the skin. The therapist will then press the tool into the body with smooth, firm strokes in one direction. You may need to lie face down on a massage table.
For facial Gua Sha: It is important to go in an upward, outward direction only and press lightly by gliding over a facial oil. Better not make up your own technique. We strongly recommend you to see a qualified therapist for Gua Sha treatment to guarantee all the benefits of this wonderful method.
COURSE RECOGNITION
Our Guo Sha course is a one-on-one private course, particularly designed with 6-8 intensive hours of practice, which focuses on providing students with all the essential skills and knowledge prior to starting in the workforce.
More excitingly, by enrolling in the course, students will not only have the opportunity to practice the techniques on real clients but they may also receive in-person treatment demonstration from the trainer so you can experience and understand what the client feels like when receiving the same service that you are providing.
It is not a government accredited course but an Academy Master Class. Our College Master Class Certificate is awarded on completion of 6-8 practical hours which can be in your own salon.
Le Spa Massage Academy offers a 1-day training course covering all correct treatment protocols and techniques to properly and proficiently perform Gua sha when combining with massage.
DELIVERY METHOD
One-on-one private training with Kim – contact us to arrange a time that suits you.
ASSESSMENTS
Le Spa Massage Academy will conduct assessments towards the end of the course. Trainees are to receive certificate once competently pass relevant assessments.
ENTRY LEVEL
No previous training or experience necessary and no special equipment required for this training.
DURATION
1 official training day
0.5-hour lunch break
Professional Certificate of Attainment
WHAT TO BRING
3 large-sized towels and 2 small-sized towels
Your lunch
Tea and coffee will be provided throughout the course
WHAT TO WEAR
Comfy outfits and short nails
COURSE FEE
Price: $560
LOCATION
08/31 Black Street, Milton, Queensland, 4064