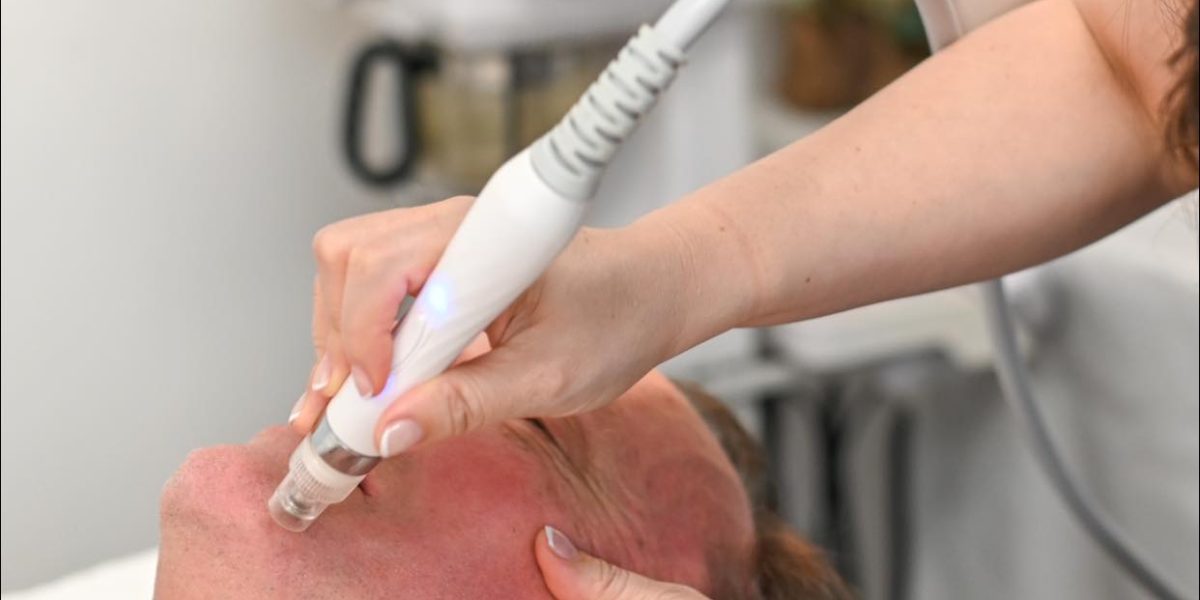 HYDRA FACIAL THERAPY COURSE
Are you ready to embark on a journey to master the art of rejuvenating and revitalizing facials? Le Spa Massage Academy proudly presents its Hydra Facial Therapy Course, a comprehensive 1-day program designed to equip you with the knowledge and skills to perform the Hydra Facial, a luxurious and highly effective skincare treatment. Join us and become a certified expert in this cutting-edge facial therapy!
What is a HydraFacial?
HydraFacial uses a patented technology that can simultaneously cleanse, exfoliate and clear congested pores and deliver nourishing serums, all in 60 minutes.
During the treatment, dead skin cells and impurities are removed, while serums are applied to the skin to target a range of skin concerns. The serums that are used during the procedure increase the uptake of antioxidants in the skin to a greater extent than manually applying creams.
Step 1: Cleanse – Reveal the Purity within
The journey to radiant skin begins with a thorough and invigorating cleanse. Through the magic of Lactic Acid AHA and the gentle touch of ultrasonic waves, excess oils and impurities lurking deep within your skin's pores are drawn out, leaving them perfectly clear and ready for the next step. Say hello to a fresh canvas that's eager to soak up the goodness!
Step 2: Exfoliate – Unleash Your Inner Glow
Now, it's time to bid farewell to dullness and embrace a brighter complexion. Microdermabrasion takes center stage to gently exfoliate dead skin cells from your skin's surface, while simultaneously encouraging the production of new, rejuvenated cells in the deeper dermal layer. This dynamic duo not only improves your skin's tone, texture, and color but also enhances the effectiveness of your skincare products by enabling better absorption of their potent ingredients.
Step 3: Detox – Nourishment from Within
With your skin primed and eager to absorb goodness, a relaxing ultrasonic massage comes into play, infusing your skin with a potent cosmeceutical cocktail. This cocktail, brimming with highly active peptides and growth factors, works its magic to provide firmness, elasticity, and overall skin health. Your skin will soak up these important components, revitalizing it from within and leaving you with a fresh, youthful glow.
Step 4: Rejuvenate – Embrace Youthful Radiance
The rejuvenating journey continues with the power of Radio Frequency (RF) current. This gentle heating of the dermal skin tissue stimulates collagen and elastin production, effectively strengthening and tightening your skin. Fine lines and wrinkles find themselves in retreat, all without any post-treatment downtime. Hello, smoother, firmer skin!
Step 5: Infuse – Nourish and Calm
Now it's time to pamper your skin with a purifying mask enriched with detoxifying volcanic clays, hydrating Hyaluronic Acid, and Perfection Peptide. Gently applied with a cold hammer, this cooling and calming experience soothes any residual heat and redness. At the same time, your skin is fed with essential nutrients and hydration, ensuring it feels blissfully refreshed.
Step 6: Hydrate – Glow from Within
We've reached the final step – prepare to be amazed! The Hydra Micro treatment culminates in an enchanting Oxygen H20 serum infusion. Your skin is drenched with highly concentrated molecules of purified oxygen, accompanied by a customized skin serum. The result? An illuminating glow that radiates from within, leaving you feeling like an absolute superstar!
COURSE OVERVIEW
The Hydra Facial Therapy Course at Le Spa Massage Academy provides a holistic approach to facial care, focusing on the innovative Hydra Facial technique. In this course, you will learn the  6 essential steps of the Hydra Facial, with an emphasis on advanced face massage techniques, muscle relaxation, lymphatic drainage, pressure point stimulation, acupressure, wellness, detoxification, and stress relief. Our unique curriculum blends natural ingredients and branded products to cleanse, exfoliate, and nourish the skin, leaving your clients feeling refreshed and rejuvenated.
COURSE CONTENT
Understanding Facial Basics: Delve into the fundamentals of facial care, exploring the purpose and benefits of facial therapies.
Anatomy of the Skin: Gain in-depth knowledge of the skin's structure and functions, essential for tailoring treatments to individual skin types.
Skin Conditions and Treatments: Learn to identify various skin conditions and apply appropriate treatments to address specific concerns.
Natural Products and Ingredients: Explore a wide range of natural ingredients and their benefits in enhancing facial treatments.
Hydra Facial Techniques: Discover the step-by-step process of performing the Hydra Facial therapy, from start to finish.
Facial Utensils and Equipment: Familiarize yourself with essential facial utensils and equipment needed to deliver professional-grade treatments.
Hydra Facial Massage: Master the art of Hydra Facial massage, incorporating relaxation, lymphatic drainage, pressure points, and acupressure techniques.
Practical Sequence of Hydra Facial Therapy: Put your knowledge into action through hands-on practice, refining your skills under expert guidance.
YOUR JOURNEY WITH US
Throughout the 6-in-1 Hydra Facial Techniques Course, our expert instructors will guide you through each step with care and precision. You will have hands-on practice, honing your skills to perfection. We focus on the practical application of these techniques to ensure that you leave our academy as a confident and capable skincare professional.
COURSE RECOGNITION
Our Microdermabrasion course is a one-on-one private course, particularly designed with 6-8 intensive hours of practice, which focuses on providing students with all the essential skills and knowledge prior to starting in the workforce.
More excitingly, by enrolling in the course, students will not only have the opportunity to practice the techniques on real clients but they may also receive in-person treatment demonstration from the trainer so you can experience and understand what the client feels like when receiving the same service that you are providing.
ASSESSMENTS
Le Spa Massage Academy will conduct assessments towards the end of the course. Trainees are to receive certificate once competently pass relevant assessments.
ENTRY LEVEL
No previous training or experience necessary and no special equipment required for this training.
DURATION
1 official training day
0.5-hour lunch break
Professional Certificate of Attainment
WHAT TO BRING
3 large-sized towels and 2 small-sized towels
Your lunch
Tea and coffee will be provided throughout the course
WHAT TO WEAR
Comfy outfits and short nails
COURSE FEE
Price: $560
LOCATION
08/31 Black Street, Milton, Queensland, 4064