More than being a Remedial Massage Practitioner, more than having plenty years of experience in remedial treatment, Graeson's dedication as a sport player himself gives him the cutting edge knowledge as a sport massage therapist. On top of that, his heartful intention in helping and bring about changes in people's lives makes him even more unique.
Le Spa Massage can not be prouder to have Graeson in our team. Book your first Remedial Treatment today and get 20% OFF (discounted price from $88) with Graeson to see how he can assist you to become knots free.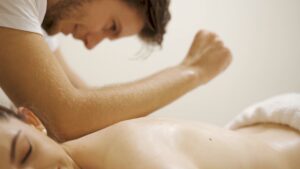 I love sports!
From the start of my school years, as the sport player and lover in swimming, squad, tennis, futsal, hockey & cricket, I have experienced myself and my team player falling to sport injuries such as ankle sprain, hamstring strain, shin splints, tennis elbow (epicondylitis)
Over the years I excelled in hockey and Cricket representing the state and currently playing for a cricket club in Brisbane. Seeing how many of my teammates falling to injury made me very aware of my body and caring for it.
I was keen to help sport player through injuries, specialise in sport massage. I have completed Diploma of Remedial Therapy at Q Academy, dry needling, flame cupping, sport massage, lymphatic draining, Thai stretching & compressing. Combining and using variety massage techniques in my treatment for the best outcome, since it can stretch out tightness, loosen scar tissue, increase rehabilitation.
Massage is extremely beneficial to everyone both physically and mentally and I see the changes in people I work on. I enjoy helping people and seeing them pain free and moving without any restrictions.
Health Fund Rebates Covered